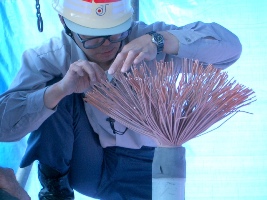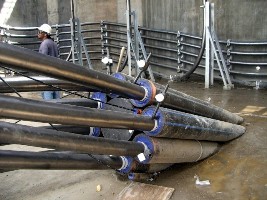 About Us
Campbellwhite Power System's was formed in late 1998 to provide cable jointing services to the growing Ausrtralian power industry, operating mainly from Australia.
In the ensuing years Campbellwhite have grown the cable jointing/splicing business to cover the global demands of the power industry, with as many as twelve (12) professional jointers operating anywhere within the world at any given time.  Campbellwhite in 2004 leveraged our extensive knowledge base in power systems; to enter the market as a representative for multiple major global power cable suppliers.  Our cable supply into major utilities throughout Australia has been a testament to our successes in providing high quality product with outstanding value.
Through Campbellwhite's never ceasing dedication to work both internally and externally in the field ,the company has attained a pride in craftmans-like job completion, competitive pricing and dedicated executive work.
From our team at Campbellwhite we would like to extend our invitation to you and your company for all of your power solution needs, whether it is a quote for cable jointer, one drum or 500km of cable, you will find our attitude to be positive and refreshing in every respect.
Michael White
Founder & CEO, Campbellwhite
Campbellwhite Power Solutions works with various civil contractors throughout Australia and the world by providing world-class cable jointing solutions and the sale of cable, to offer turnkey build and construct projects, managed by our civil partners.
Our partnerships are built on a mutual confidence that we are the best at what we do, coupled with an integrity in business practice and ethics that makes doing business with Campbellwhite Power Solution a pleasure.
Build & Construct
Oil & Gas
Renewable Energy
Transmission & Distribution
Telecom Cable & Fiber
Michael White
Founder/CEO
As owner and CEO of Campbellwhite, Michael brings from his earlier years a wealth of hands-on experience in cable jointing/splicing where he was trained in the UK by the best in the business.
His strong leadership skills have propelled Campbellwhite from a smaller cable jointing company in Australia to a global presence with a dozen world-class jointers working on six continents. His understanding of cable systems and years of relationship building have positioned Campbellwhite to not only be a leader in the cable jointing field, but in the sale and support of advanced power cables for the global market.
Rob Horne
Sr Cable Technologist
Manufacturing
Through our cable partners in China, we are able to offer both vertical and horizontal manufacturing lines that are all ISO 9001 certified, as well as equipped with key manufacturing equipment from Europe and the USA. Each facility meets Australian as well as International Standards and offer a comprehensive cross-section of cable types and designs, as well as Type Test reports.
Address
10 Tasma Street, Launceston, Tasmania 7250
Power Solutions
XLPE Cable Jointing
Power cables fluid filled
Pipe type cable (HPPT)
Gas Filled Power Cable Jointing
Cable jointing subsea
DC Links Jointing
Design & Construct