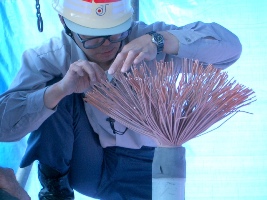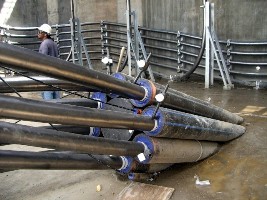 Cable Jointing-Splicing companies Australia
Campbell White Power Solutions is an Australian owned and operated cable jointing and splicing companies in Australia, with a world-wide customer base. Michael White founder of Campbell White started out with a view that was influenced heavily by his father who worked for Rolls Royce, where quality was his motto, as his desire to succeed his mission statement in life. He often phrased it like this  "winners never quit and quitters never win". It is with this mindset that Michael joined the SECWA (State Energy Commission of Western Australia) on the 23rd of March 1977 as an apprentice cable jointer and qualified in 1982 as a fully certified cable jointer. He stayed until 1986 then went to work for the Rolls Royce of cable companies  BICC (British Insulated Calander Cables) this is where he met Trevor Dalton (our chief jointer) their trainer and worked for them for four years, before coming back to Australia .
It was during this time that Whites Power Cable jointing was formed and Michael worked all over Asia conducting jointing and cable splicing repairs and training courses companies in Australia. Seeing a need for a global cable jointing company, as well as the industry shortage in skilled cable jointers and cable splicers (mainly due to early retirement of world-class trainers) the business was launched to address these needs.
Campbell White was formed with Mike's good friend Joe Campbell and the company have not looked back since. Seeing his vision and strategy come to pass and while being able to meet the needs of the growing cable jointing and cable splicing business, has always been the goal.
Our global customer base includes subsea installations, underground and overhead with voltage up to and including 500kV. Our service and support history is industry leading. When the need for quality cable jointers and engineers in the transmission world is required, Campbell White is called upon to be there. It is because of this Rolls Royce commitment to our customers, we are the number one service provider to many of our clients worldwide.
Mike said it best, when he said, "we look forward to the next decade, as well to train the next generation of cable jointers in Australia to the highest standards, and give something back to the industry I owe so much to, as we pursue a reputation as that of the Rolls Royce of jointing companies".
Capabilities
In an ever-changing industry the transmission world has come a long way, from SCFF, to XLPE and now HTS (high temp. Superconductor), as we all enamel stranded conductors. Analytics of direct temperature sensing (dts) and partial discharge (pd) are requirements on many new cable systems.
Campbell White has the capability to meet these demanding requirements, and has executed many of these projects from Moscow to Zanzibar, from Sydney to New York and in all six inhabited continents on the planet. We have the ability to be anywhere, at any time, and in any environmental condition. Our proven history of responding in an immediate manner with jointers, engineers and tooling to complete emergency repairs is world renown.
We cover all the necessary work for SCFF cables, oil hydraulics jointing and impregnation and all other associated works, with a fully conversant staff with Cad, Mig and Tig. Our jointing skills include every joint available from PPL, to oil filled and XLPE as well as any exotic joints up to an including 500kV.
We also have our cable splicers fully conversant with all metals and the plumbing of these metals with all types of gas. Our tooling is state of the art and our hand skills and safety record and performance is second to none.
The cable jointing and cable splicing professionals at Campbell White have over 125 years of combined experience and are available for projects across the globe. Please contact us at any time to discuss all your cable jointing and splicing needs, whether they be future projects or emergency repairs requiring an instant response.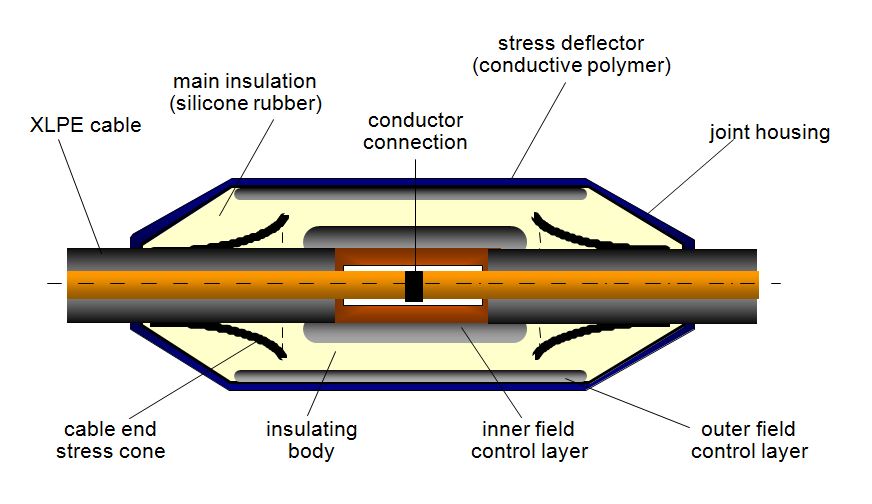 Our power cables are available from 600 volts upwards and are produced according to Australian and international standards to meet every requirement available.  Quick manufacturing times and small drum lengths are available. Campbell White supplies a variety of power cable products that are essential to the industry.
Single core, two core, three cores + concentric, four cores and aerials are power cable products offered by our manufacturing partners represented by Campbell White Power Solutions. We have immediate access to the largest production volumes in the world for power cable product, with installations throughout Australia and the world. From underground to submarine cables and overhead transmission lines, we offer a high quality product, with proven on-time deliveries and managed by world class account management and engineering professionals.
AAC, AAC, ACSR cable are all supplied by Campbell White, as well as earth wire, flat cable, XLPE, fluid filled power cable, OPGW and standard production household cable products.
Overhead Conductors
With the ever increasing need to supply lower cost high performance cable products for energy supply in country and remote communities, the need for high-capacity overhead power transmission systems is mandatory. At Campbell White we represent not only suppliers of overhead conductors, but represent the aluminum foundries as well.
Overhead conductor power cable remains the worlds number one choice for power transmission.  The needs of power companies and increasing demands of power consumption requires that our products are being made using high degrees of functionality, cost-effective manufacturing and green recycling wherever possible. Campbell White represents the world leaders in overhead conductors including OPGW and specialized overhead transmission lines.
Aluminum & aluminum alloy conductors are the preferred and dominant choice for power cable conductors in several areas of power cable transmission and distribution.  The major areas dominated by aluminum and aluminum alloy conductors are non-insulated overhead power transmission, insulated overhead power transmission and non overhead power cable distribution.
Underground Transmission
The technology and reliability requirements of manfuactures of underground transmission power cable is crucial in meeting the worlds growing needs for high performance cable systems.  Campbell White supplies XLPE power cables, oil (fluid) filled power cable and enamel stranded high performance cable up to 550kV with industry standard performance and long term reliability.  Utilizing clean room technology and the latest in European and American manufacturing equipment and processing technology, Campbell White manufacturers have provided power cable products for all six continents underground transmission needs.
Manufactured using VCV as well as near vertical production lines, our underground transmission power cable products represent the quality and performance demands of todays new suburbs and communities, as well as in-city retrofits from overhead transmission to underground.  In addition to the cable design itself, the quality of the cable can be monitored by DTS (distributed temperature sensing) products, that helps monitor cable degradation over the life time of the power cable.
Distribution Power Cable
Campbell White power cable products for the distribution sector is driven by reliability, cost-performance and long-term reliability of the products that are supplied. Every manufacturer we represent are ISO9001 certified. Distribution power cable using copper and aluminum are designed for extreme wind, water impervious characteristics and always off the absolute best-value possible.
For more information on power cable products or to receive a quotation please feel free to contact us
Low Voltage
Medium Voltage
Our medium voltage power cables are available from 12kV to 66kV and are produced according to Australian and international standards to meet every requirement available.  Quick manufacturing times and small drum lengths are available.
High Voltage
EHV
Our EHV power cables are available up to 550kV and are produced and meet standards for Australian and international markets.  Quick manufacturing times and small drum lengths are available.
XLPE Cable
XLPE = Cross-Linked Polyethylene and is an abbreviated designation for cross-linked-polyethylene. The main characteristics of XLPE cable is three-dimensional bonding, which offers a power cable with strong resistance to deformation, even under very high temperatures. If you couple this with low dielectric loss and dielectric constants you end up with a power cable that offers reduced charging currents and earth-leakage current. This package results in the best known cable for transmission and distribution lines in existence.
The rapid development of the Solid Dielectric Cables manufacturing had lead to the substitution of the traditional impregnated paper and oil filled cables almost entirely by Cross-linked polyethylene (XLPE) Cables for voltages up to 550 kV or above due to the great technical and economic advantages of XLPE cables. In comparison to traditional paper and fluid filled cable, XLPE Cables have lower weight, better thermal properties and reduced installation and maintenance costs. With the trend toward Green-Performance, XLPE Cable offer a significant advantage, since the risk of oil leakage in non-existent. The excellent electrical and mechanical properties of XLPE make it a most suitable insulating material. The cable withstands small radius bending and is far easier to manage in the field to fluid filled cable. Furthermore, cable splicing and cable jointing and simpler and more robust. Since the early 1960's large quantities of XLPE Cables have been installed around the world by virtue of its proven reliability, simplicity and overall system economy.
Our XLPE cable products are available from 0.6/1.0kV up to 550kV and are produced using VCV and near VCV facilities, which meet and or exceed all Australian and international market requirements. Campbell White Power Solutions offers XLPE cable from five world class manufactures. Brugg Cable of Switzerland, Leader Cable of Malaysia, and three state-of-the-art new European Chinese Joint Ventures located in China. At present we have XLPE cable installations up to 550kV with cable runs up to 40kM running around the world.
Various design parameters allow for a wide cross section of XLPE product to be manufactured in one of five world wide manufacturing facilities.
Our XLPE partners offer ultra-quick manufacturing times, world-class ISO standards, ridged routine tests, type-tests, and after installation tests and commissioning area all available from our team of experts. Contact our cable sales team for any inquiries, whether a single drum or multiple kilometers, we have a power solution for you.
Campbell White supplies the following XLPE Cable products: XLPE Insulated PVC Sheath Power Cable, XLPE Insulated PE Sheath Power Cable, XLPE Insulated,Steel Tape Armored,PVC Sheathed Power Cable, LPE Insulated,Steel Tape Armored,PE Sheathed Power Cable, XLPE Insulated,Non-Magnetic Steel Tape Armored,PVC Sheathed Power Cable, LPE Insulated,Thin Steel Wire Armored,PVC Sheathed Power Cable, XLPE Insulated,Non-Magnetic Thick Steel Wire Armored,PVC Sheathed Power Cable, XLPE Insulated,Thick Steel Wire Armored,PVC Sheathed Power Cable, XLPE Insulated,Concentric Conductor,PVC Sheathed Power Cable, XLPE Insulated,Concentric Conductor Steel Tape Armored, PVC Sheathed Power Cable, XLPE Insulated,Metallic Shielded,PVC Sheathed Power Cable, XLPE Insulated,Steel Tape Armored,Metallic Shielded,PVC Sheathed Power Cable, XLPE Insulated,PVC Sheathed,Fire-Proof Power Cable, XLPE Insulated,PVC Sheathed,Steel Tape Armored Fire-Proof Power Cable, XLPE Insulated,PVC Sheathed,Fire-Proof Control Cable, XLPE Insulated,PVC Sheathed,Steel Tape Armored Fire-Proof Control Cable.
Accessories
At Campbell White you will find a solution for all of your accessory requirements. Our global partners include Brugg, Phisterer, 3M as well as other manufacturers representing ten nations. Contact a Campbell White Power Solutions expert today, whether it be for a hard to source spare or complex jointing systems, we have the solution.
Address
10 Tasma Street, Launceston, Tasmania 7250
Power Solutions
XLPE Cable Jointing
Power cables fluid filled
Pipe type cable (HPPT)
Gas Filled Power Cable Jointing
Cable jointing subsea
DC Links Jointing
Design & Construct